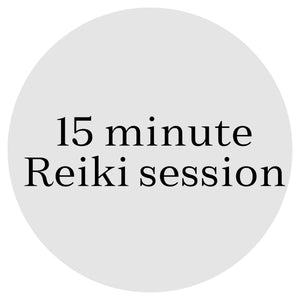 This 15 minute session is best used to achieve relaxation, stress relief, and piece of mind. 
Together we will set up a time to conduct the session, so you can relax as I am doing it. It's in no way necessary but I find a lot of people can feel the instant relief better when they are comfortable. If for some reason our schedules don't line up and, for example, you will be at work during the session, that is completely ok. The healing will still work exactly the same. 
Reiki is an excellent way to help jumpstart the body's natural healing processes. It aids in relaxation and stress relief, while helping develop mental, spiritual, and emotional well being.

Reiki also can help alleviate body pains and some symptoms associated with certain sicknesses.
By aligning and activating ones chakras, the body's circuit will be completed to ensure the best chance of healing and ignite one's spiritual self.
✨